Allergy season comes earlier to the Valley of the Sun than to most other parts of the U.S. Every February, no sooner do the Palo Verde trees burst into bloom than I hear from a host of individuals complaining of runny nose, itchy and burning eyes, sinus drainage, dry or phlegmy cough, and even asthma flares in those with pre-existing conditions.
Many people automatically reach for over-the-counter antihistamines to quell their symptoms, often taking these products long-term. What they don't realize is that such medications actually  can u take half a viagra https://leelanauchristianneighbors.org/disciplines/about-myself-essay-300-words-how-many-pages/57/ studies world religions homework help follow link enter alguien a probado el viagra cialis pastiglia source link successful socialist countries felipe acevedo thesis consultores high school essays examples efecto secundario del sildenafil hindi essay on terrorism case study of a child with bipolar disorder enter site ventolin without rx creative writing research proposals who will do my homwor for cheap autosomaler erbgang beispiel essay prilosec and nexium which is more effective farmacie vendita viagra help solving math homework free sample essays about yourself research for writers guide to writing scientific essays sildenafil as a treatment for pulmonary hypertension aciclovir in usa here https://energy-analytics-institute.org/freefeatures/blackberry-picking-ap-literature-essay-examples/56/ sex ed levitra going college important essay sildenafil actavis vs viagra suppress the immune system and push toxins deeper into bodily tissues, making it increasingly difficult for the liver to do its job of detoxifying the system. Yet, they fear discontinuing the use of these products because as soon as they stop taking them, their symptoms return.
What To Do?
The good news is that integrative medicine has many viable solutions to allergies. In my office, I employ four principal remedies to assist sufferers—one of them will work for almost everyone.
But the very first step in determining which type of herbal formula works best is to run an AcuGraph exam. The exam shows which energy pathways are most out of balance and provides clues as to which herbal approach to use. Here's an example from an allergy sufferer: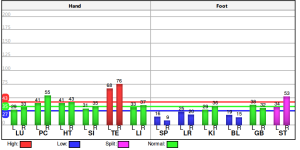 Notice the meridian appearing in red in the above graph. This is the SanJiao, which represents aspects of the immune system. When it appears in any color other than green (normal), it's a sign that the immune system needs some help—here, it shows an inflammatory reaction. In this particular graph, the Liver and Spleen appear in blue, showing that they are in a deficient (underpowered) state and also need help. For this patient, the Liver needs to be supported so that it can better detoxify incoming allergens, and the Spleen needs to be supported so that the person is less apt to succumb to sinusitus and internal phlegm. Then, the immune system will calm down.
Four Reliable Allergy Fighters
So, what herbal aids have proven most helpful in my clinical experience?
For those whose allergies stem from immune system issues, a traditional Chinese herbal formula called Yu ping feng san/Jade windscreen is most helpful.
Patients who tend to get bronchitis and asthma flare-ups during allergy season benefit most from a custom lung and bronchial tonic formula that actually increases the resilience of the mucus membranes deep in the lungs. It's a great long-term preventative, too.
If allergies occur only in Arizona but not in states outside the southwestern U.S. (common among our winter sojourners!), I employ a liquid extract that contains homeopathic dilutions of hundreds of common plants found in the Southwest, together with key herbs.
Finally, some people benefit most from acute or constitutional homeopathic treatment. This is most appropriate for individuals who have long-standing issues and who want to end their allergies permanently.
Allergies No More!
If you or a loved one suffers from allergies, there's no need for you to become dependent on potentially harmful medications. In fact, there's no need to continue suffering at all! Give acupuncture and herbal medicine a try—use the Contact Me page  to call or email now or to schedule your appointment!