Conditions Treated
Here are some of the most common conditions that I see in my clinic. If your health concern does not appea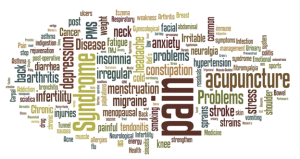 r in this list, please feel free to call or email me.
Anxiety
Arthritis, tendonitis, and joint pain
Asthma, allergies, sinusitis, bronchitis
Attention deficit disorders
Autistic spectrum disorders
Auto injuries
Bladder and kidney Infections
Bowel problems (diarrhea, gas, constipation, IBS, IBD)
Cancer (supportive care)
Candidiasis
Cardiac palpitations (irregular heartbeat)
Chronic Fatigue Syndrome
Common cold and influenza (both respiratory and GI-related)
Degenerative disc disorders
Depression
Diet, nutrition, and weight control
Endometriosis
Fibromyalgia
Headaches and migraines
Hypertension (high blood pressure)
Indigestion and acid reflux
Infertility
Insomnia
Irregular menses and amenorrhea
Memory problems
Menopause symptoms
Menorrhagia (excessive menstrual bleeding)
Menstrual irregularity and amenorrhea
Musculoskeletal pain
Nausea (from pregnancy, cancer treatment, etc.)
Orthopedic conditions
Pain (other kinds)
PMS
Postpartum difficulties
Postsurgical recovery
Prostate problems
Sports injuries
Stress syndromes
Tinnitus (ringing in
ears)
Uterine fibroids
The World Health Organization (WHO) Opinion on Acupuncture
In the hands of a well-trained practitioner, acupuncture has much broader applications beyond pain relief. The World Health Organization (WHO) recognizes the use of acupuncture in the treatment of a wide range of common illnesses, including:2
Upper Respiratory Tract

Acute sinusitis
Acute rhinitis
Common cold and flu
Acute tonsillitis

Respiratory System

Acute bronchitis
Bronchial asthma (Most effective in children and uncomplicated conditions treated.)

Eye Disorders

Acute conjunctivitis
Central Retinitis Myopia (in children)
Cataracts (without complications)

Mouth Disorders

Toothache
Post extraction pain
Gingivitis
Acute and chronic pharyngitis

Gastrointestinal Disorders

Spasms of esophagus
Hiccough
Gastroptosis
Acute and chronic gastritis
Gastric hyperacidity
Chronic duodenal ulcer (pain relief)
Acute duodenal ulcer (without complications)
Acute and chronic colitis
Acute bacillary dysentery
Constipation
Diarrhea
Paralytic ileus

Neurologic and musculoskeletal disorders

Headache and migraine
Trigeminal neuralgias
Facial palsy (early stage, i.e., within 3-6 months)
Pareses following a stroke
Peripheral neuropathies
Sequelae of poliomyelitis (early stage, i.e., within 6 months)
Meniere's Disease
Neurogenic bladder dysfunction
Nocturnal enuresis (bedwetting)
Intercostal neuralgia
Cervicobrachial syndrome
Frozen shoulder
Tennis elbow
Sciatica
Low back pain
Osteoarthritis
Carpal Tunnel Syndrome
Back and knee pain
Fibromyalgia
Chronic fatigue
Sports injuries and pains

Reproductive and Gynecological Conditions

Premenstrual Syndrome (PMS)
Dysmenorrhea (menstrual cramps)
Spotting and excessive bleeding
Amenorrhea (loss of menstrual period)
Impotence
Infertility
Incontinence
Prostatis

Mental and Emotional Problems

Stress
Anxiety
Depression
Insomnia
The World Health Organization Interregional Seminar compiled the above list of illnesses that could benefit from acupuncture treatment. The list is only a partial list and is based on clinical experience, not necessarily on controlled clinical research. The inclusion of specific diseases is not meant to indicate the extent of acupuncture's efficacy in treatment, as all conditions treated can vary in severity and response.